Having seasonal allergies or an asthma diagnoses is tough to begin with.  Having to work in a building that is not ventilated properly can intensify these already existent problems and provoke further health concerns.  Beyond comfort, poor indoor air quality (IAQ) has the power to cause headaches, fatigue, trouble concentrating, and irritation of the eyes, nose, throat and lungs.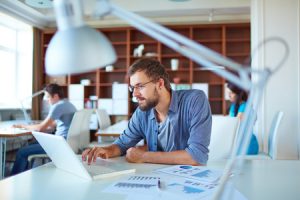 Causes of Poor Air Quality
Poor IAQ might be a result from factors within the building itself or from the outside.  These include poor ventilation (lack of outside air), problems controlling temperature, high or low humidity or recent remodeling.  Indirect factors stem from external events beyond the buildings control.  Additionally, specific contaminants like dust from construction or renovation, mold, cleaning supplies, pesticides, or other airborne chemicals can likely cause poor IAQ.
Canadian Centre for Occupational Health and Safety (CCOHS) Standards
CCOHS has indirect standards that dictate amounts of acceptable contaminate which would inadvertently contribute to poor air quality. Generally speaking, employers need only to ensure their properties do not expose employees to hazardous contaminates that could result in serious injury or death. You can get full access of the standards with CCOHS.
Solutions & Worker's Rights
With proper maintenance of the building in terms of cleanliness, paired with ventilation inspections and cleanings, the air quality can improve greatly.
If an employee feels they are at risk of poor IAQ, they should know they can find support by contacting CCOHS for questions and concerns about their health and safety in the workplace or by contacting Superior Air Duct Cleaning at 1-877-891-3828 for a consultation.
If you suffer in the workplace from poor ventilation, know there is support and solutions that can improve the health and comfort for all employees.  Poor IAQ can greatly impact your health; therefore your work performance can become a financial disaster for building owners.  Luckily, there are laws and solutions in place to prevent this.